If you have not heard about Valet Storage, you guys are in for a treat!  If you are reading this blog, you are most likely a home stager, a real estate agent, or a home owner looking to stage their home for sale and Valet Storage is going to blow your MIND!  Having worked as a professional home stager, time and time again, I would have the exact same question from home owners agents.  "Where do I store my stuff when I am selling?".  Well, Valet Storage is definitely an amazing option for you.  They not only store your items in a safe and secure storage facility BUT they also move all your items to storage for you!  During the selling process, home owners are generally pretty stressed with everything that needs to be done to prep the home for sale.  Valet Storage helps minimize the stress and time put on home owners by offering this valet storage option.
I had the pleasure of sitting with one of the very fabulous owners of Valet Storage, Mike Betts, who I have to tell you has this very calming aura about him, and ask him some questions about his company and who he is.  After all, I believe it is always great to get to know those owners you are giving, or considering giving business to.
Q:  Who is Mike Betts?
A:  Well that's a fun question!  I'm a life-long Torontonian, proud father of two boys who are 18-years apart in age, I'm a technology entrepreneur turned storage business operator and a aspiring weekend home chef
Q:  How did Valet Storage come to be?
A:  My business partner Adam and I thought that there just must be a better way for people to get their belongings to and from a storage locker.  Turns out there is.  Do all of the moving for your customers and save them the headache!  We took a look around the market and saw that no one was doing this in Canada and figured we'd fill the gap.  So far so good!

Q:  What did you do before Valet Storage?
A:  I've run a couple of different businesses in the past.  I owned and operated a commercial photography studio in my early 20's, built a software business in my late 20's.  For the past few years of been running a consulting business working with high-tech companies in the early days of their growth.  I'm a life-long entrepreneur so this seemed like too great an opportunity not to dive into.
Q:  Tell us how Valet Storage works?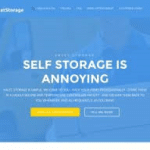 A:  Very simply, you call us, we book you into one of our 24-hour monitored, climate controlled, private lockers and we select a move-in date that works for you.  On moving day our team shows up, we move everything out that needs to go to the locker and inventory everything at the client site before it's loaded to the truck.  Our team takes everything to storage and reports to you via email once it's all been checked into your locker.  We create an online account where your storage inventory is available to you 24/7.  Anytime you need something from the locker, you simply book a delivery time and our team brings it right to your doorstep!  Moving is included in your storage plan so you just pay for your monthly locker and nothing else.  Simple, easy and you never need to crawl your way through traffic to your storage locker because we do all the work for you!
Q:  What type of items do you store?
A:  Anything really as long as it's not in violation of our terms of service, so furniture, appliances, kitchen items, books, clothes, bikes, tools, golf clubs, skiis, wardrobes etc…no problem, but propane, fresh produce, and your goldfish, we can't do.  We're pretty approachable folks though, so if you ever have any questions just give us a shout, we're here to help.
Q:  How are items inventoried at Valet Storage?
A:  On move day, a member of our team will ID tag and photograph everything being moved out to your locker.  Customer's can of course opt out of the photo inventory if they wish.  Those images along with summary descriptions are uploaded to our customer portal and you can login there anytime to see what's in storage and to book returns of items you need.
Q:  Who do your services cater to?
A:  Anyone who needs storage or some extra space and doesn't want the hassle of having to get stuff to and from the locker.  Life is busy, I know most people have better things to do with their time than to spend it at a storage warehouse!
Q:  How can your services help home stagers?
A:  Anytime someone needs their home staged there is typically a bunch of stuff that needs to go.  Selling a home is always a stressful time for customers with a lot going on.  We find our service is a great compliment to what stagers do.  You want your customers to get furniture items out of the home efficiently and we can make that happen in a professional and safe manner.
Q:  How can your services help real estate agents?
The above is true in many ways for Realtors too.  You are a trusted source of advice and support for your clients while they're making a significant transition in their lives.  We're a great service provider to eliminate the complexity around one big and often frustrating element of that transition.
A:  How much does Valet Storage cost?
Our prices vary based on size of the locker you choose but all of our pricing information is public and can be found here and we love talking to our customers so give us a call anytime and we can tackle your questions on pricing and what packages are the right fit for your storage needs.
Q:  What areas do you service?
A:  Toronto from the eastern edge of Scarborough to the west side of Etobicoke and from Steeles Avenue to the water.  Our coverage area is expanding though so don't hesitate to give us a shout if you're outside that area.
Q:  If you were on an island and could only bring three things, what would you bring?
A:  My wife and my two boys.
Q:  If you were a box of cereal, what would you be and why?
A:  Ha! You did suggest some of these questions would be a little odd, I think this one's the winner.  So I took it upon myself to take this personality test online at Buzzfeed http://www.buzzfeed.com/tashweenali/which-cereal-are-you – and apparently I'm Captain Crunch!
________________________________________________________________________________________________________________
---
Julie O is the owner of Toronto's #1 furniture rental house, Lux Furniture Rentals. Lux Furniture Rentals provides rental furniture for home stagers, real estate agents, builders, interior decorators, photographers, event planners and set designers. We offer rental furniture to meet all project needs and budgets. We deliver to  GTA, Toronto, Mississauga, Scarborough, Richmond Hill, East York, North York, Vaughan, Woodbridge, Oakville, Stouffville, Markham, Whitby, Oshawa, Pickering, Ajax, Burlington, Milton, Aurora, Newmarket and Brampton.