Small Bedroom Staging Ideas
A room that many home stagers and agents have asked us for advice about is about what
to do with a tiny bedroom.  I'm sure all of you have run into these tiny rooms in a project
and have asked yourself the same question.
Here are some tips on small bedroom staging ideas: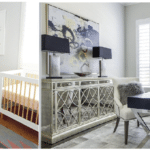 When working with a small bedroom, considering the DEMOGRAPHICS of the neighborhood or building is always key.
If the neighborhood or building is occupied with families, consider creating a nursery
or a young childs' room. If the neighborhood or building is full of young professionals, consider creating an office oasis.
SCALE is the MOST important thing to consider when you are choosing furniture for a small bedroom.  When you stage the bedroom, you want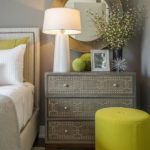 the room to look as large as possible.  One tip I like doing in a small room is actually 1 or 2 larger pieces of furniture in the room to give the illusion of space.  For example, in a child's room, I like to use a large dresser and a tall twin headboard.  If you use too many smaller pieces in the space, this eats up the space and make the room look cluttered.
I find that the most successful color combinations for small bedrooms are
monochromatic room designs. A monochromatic room creates the illusion of a
larger space and is calming to the eye.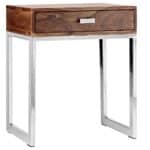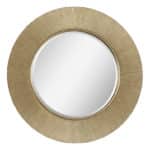 Select furniture that will take up less visual space.  Select "open" furniture, like a nightstand with open legs like our whisky nightstands
Hang a mirror where it will reflect the outdoors or a lighting fixture.  This will help bounce the light around the room and make the room appear larger.
Stay away from sleigh and canopy style beds. These bed styles are too heavy for the space and will take over your bedroom, making it appear even smaller in size
Take advantage of the VERTICAL SPACE in a small bedroom by using tall pieces of furniture instead of wide ones.  For example, think about using our haven headboard which is a tall twin headboard at 5' tall or a tall boy dresser.  This gives the illusion of a larger room as people are forced to look up.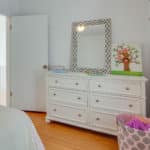 My favourite use of a small bedroom is create a girls nursery.  Use our Chloe crib and Lea dresser accent with our shades of grey mirror and our pink basket accessory and fill it with sweet stuffies. Pull the rest of the look together with a cute tutu on a hanger, baby books and a pair of tiny shoes to really pull on the hearts of potential buyers.
If showcasing a small bedroom as an office, definitely utilize a 5×8 area rug to add some DEPTH to the small space, a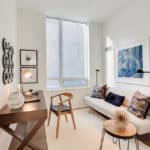 chair in a corner and art to fill the space and create an office oasis.  This will create a functional yet stylish space that young professionals will be able to envision living in.
I hope you found some of these tips and suggestions useful when you work on your
next "small bedroom" project.  If in doubt, we are always here to help
and answer any questions or dilemma's you may have.  We are Toronto's best furniture rental house for home staging.
 Julie O is the owner of Toronto's #1 furniture rental house, Lux Furniture Rentals. Lux Furniture Rentals provides rental furniture for home stagers, real estate agents, builders, interior decorators, photographers, event planners and set designers. We offer rental furniture to meet all project needs and budgets. We deliver to  GTA, Toronto, Mississauga, Scarborough, Richmond Hill, East York, North York, Vaughan, Woodbridge, Oakville, Stouffville, Markham, Whitby, Oshawa, Pickering, Ajax, Burlington, Milton, Aurora, Newmarket and Brampton.